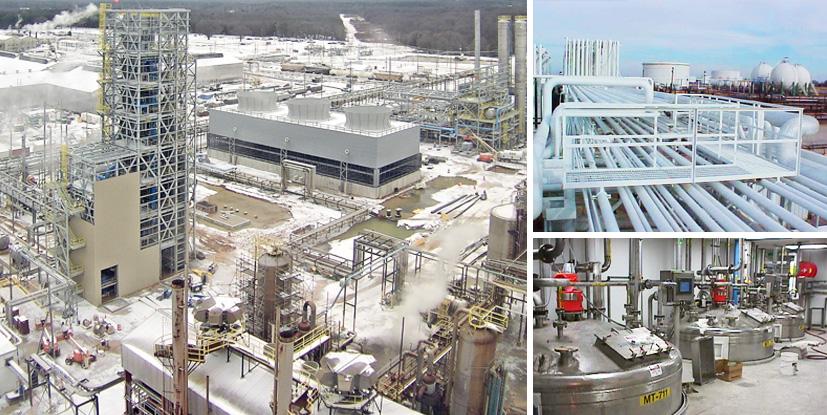 With the aging nature of facilities, the growing demand for products and the implementation of new government mandates, the hydrocarbon and chemical industries are continuously challenged to execute cost-effective, accelerated projects.
Benham accomplishes these objectives by developing designs that allow for equipment re-use, anticipating future needs, incorporating value engineering, and providing phased implementation and pre-turnaround construction that minimize downtime.  We have established a solid track record completing retrofits, revamps, expansions, debottlenecking, and unit additions, giving us a unique skillset and techniques to enhance efficient and safe project implementation. Our experience includes projects for a variety of chemical industry companies ranging from polyester resins to dry chemical production and from FDA-regulated food-grade additives
to dry cleaning products. We have experience working with hundreds of chemical products and materials, including those that are extremely hazardous or explosive.
We provide process design, as well as full architecture and engineering design, procurement and DesignBuildSM project delivery services for new, upgraded or expanded chemical process facilities. Our projects feature innovative design solutions for a broad range of unit processes in the chemicals industry.
Benham can provide every aspect of your chemical technology project and a complete range of other architectural, engineering, DesignBuild and environmental services — all from a single point of contact.
Bulk loading/unloading

Bulk storage

Bulk solids storage

Corrosive liquids handling

Flammable liquids handling

Solids handling

Chemical reactor design

Catalytic reactor

Adsorption/absorption

Ion exchange

Crystallization

Filtration

Centrifuges

Evaporation

Distillation

Mixing/blending
Heat exchange

Refrigeration

Drying

Packaging

Water treatment

Electrochemical cells

Gas compression

Screening/classifying

Size reduction and agglomeration

Dust collection and control

Fume/vapor collection and control

Flare systems

Fuel gas systems

Tank farm/terminals

Utilities